Songs I've loved this month;
Do You Remember The First Time – Sophie Ellis Bextor (originally by Pulp)
Recently I have become a big fan of Sophie Ellis Bextor, and I especially love this cover of a classic Pulp song which she did for Britpop at the BBC.
Wasted by Tiesto
This is not the kind of music that I would usually listen to, but the tune is so upbeat that I think it's perfect for summer. It's especially great when combined with the very feel good music video.
Book of the month;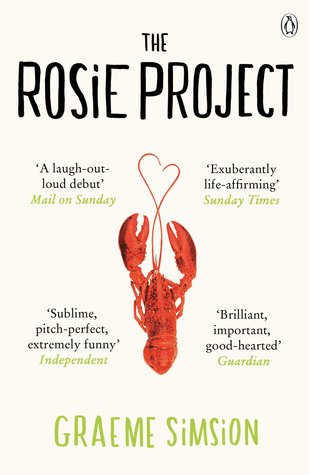 The Rosie Project by Graeme Simsion – a feel good romantic comedy about a man with aspergers and his attempt to find his perfect wife. Enter Rosie, the chaotic but fun girl who is completely unlike what he's looking for. The plot may sound cliché, but the viewpoint was very interesting and amusing as you had a glimpse into the protagonist's ridiculously ordered life. It was also incredibly endearing to see him experience things he never expected, and his character development raises this book above your standard chick lit.
TV Shows I've loved this month;
In The Flesh – as I have said numerous times on this blog, I started watching this show earlier this month, and it's since become one of my all time favourites. Although it's about zombies, it follows very human issues, and manages to be meaningful whilst also being exciting.
Utopia – a conspiracy thriller, Utopia is about five people who take interest in a graphic novel and then start to be hunted by a secret corporation. Filled with unexpected plot twists and complicated, likable characters, who seem realistic, Utopia is definitely worth a watch.
Best Thing I Saw This Month;
Les Miserables at The Queens Theatre, London
Hardly a ground breaking suggestion, Les Miserables is well known for it's great
soundtrack and epic story. All the cast are incredibly talented, and this is one of the most powerful things you can see at the theatre, so if you haven't seen it yet, then listen to the hype, and go see it.